This article is part of our HSStub project.
Currently, it doesn't live up to our wiki standards, but you can help us by expanding it or sharing what you know in a related discussion.
To learn more about this project, go here.
96
wendy231
Exceptional Movie Star
Wendy231 is a regular user on MovieStarPlanet (NL). She is level 94 (Exceptional Movie Star), and is in the 7th spot on the NL server highscores board.
About
Wendy231 has earned lot of her fame through her own movies and starring in others' movies. Her movies are mainly movie series. Her most popular movie series is "IK BEN ARIANA GRANDE", the first part having over 13,500 views. Her artbooks are mostly about her movies and commonly talked about topics. She does giveaways every now and then, mostly drip top giveaways.
Usual Appearance and Style
Wendy236 has black eyes with a black smokey eyeshadow, naturally light coloured lips, a tan skin tone, and a pointy nose. Her style is mainly casual. She mostly wears light blonde or black hairstyles, and often wears the colors black, light blue, and white.
Trivia
Her name is Rowena.
Her birthday is 26/11, she is 18 years old.
She loves to draw, and sometimes posts her artwork on her instagram page, @rowenailene
She has diamond level on every achievement except the achievement Gossip Star and Fashionista.
She has a Youtube channel called "wendy231 ". The channel obtained 12,000 subscribers within the 4 months that she posted.
Gallery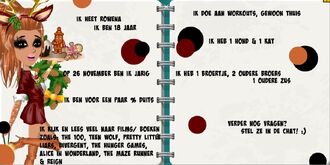 Community content is available under
CC-BY-SA
unless otherwise noted.