This article is incomplete!

This article is a stub. You can help the wiki by expanding it.
Profiles
display information and many features that any user can access for other users and themselves.
About
There are two parts to any MovieStarPlanet user's profile: the mini-profile and the full profile.
Mini-Profile
When you first click a user, it brings you their basic introducing profile (or "mini profile") that shows their current status, level, outfit, best friends, and relationship. In addition, it lists the person's username and tells whether you are friends, best friends, or in a relationship with the user. Here is an example of a profile:
You can also do the following things with the user:
View their full profile
Visit the person's room
Message them privately
Send them an autograph 
Give them a gift
Trade with them
Send them a friend, best friend, or relationship request
Full Profile
On the user's full profile is again a way to visit their room and a view of their best friend and relationship spots; below this is the "Favorites" section, where the user can select their favorite movie, artbook, look, photo, and YouTube playlist to display, and the user's join date and profile view count. On the other side of the front page is a place to leave comments in the user's guestbook, as well as a way to view the user's designs, movies, artbooks, looks, photos, YouTube playlists, and recent statuses (which can be loved from the profile). Other tabs of the profile include a bio in which the user can write about themselves, an achievements page, and the user's wishlist. Here is another example of a profile: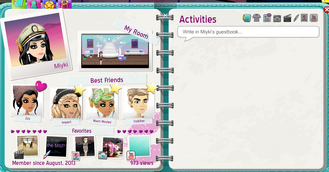 Trivia
The profiles have been a part of MSP since its release in 2009.
You have to be at least level six to write in a user's guestbook and be able to gift/trade with other users.
In the past, you were able to see how many artbooks, looks, etc. a user had created when clicking on what is now the Favorites section.
Holly Nova, Pixi Star, and Zac Sky do not have wishlists, bios, or achievements.
Before the Spring 2012 profiles edit, you could only have one best friend, and you couldn't write a status through your profile. There was also an old bio, consisting only of written text, which was still temporarily available after the change.
You used to be able to change your birth date, but no longer.
The exact date and hour of the time you joined MSP was written on your profile, but that feature is gone.
On the mobile app, a movie star's profile shows when their best friends and girlfriend/boyfriend last logged in.
In 2018, the yellow triangle was updated and the action to block another user got its own button.
Glitches & Errors
You can accept as many best friends as you want. (Patched)
Sometimes the profile glitches and may say a date when you played MSP, but that's not the real date.
Community content is available under
CC-BY-SA
unless otherwise noted.