This article is incomplete!

This article is a stub. You can help the wiki by expanding it.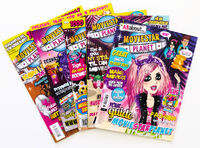 Magazines are created by MovieStarPlanet and published by Egmont. Currently, there is a new magazine every month. There is always a special code which the player can use in-game to receive starcoins, diamonds, exclusive in-game items, or even VIP depending on what's included with that magazine. The magazines contain comics, fashion tips, posters, contests, tips and tricks for MovieStarPlanet, and much more! The first magazine was published in September 2012.
Trivia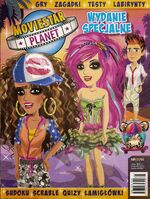 There are sometimes one special edition magazines.
Magazines were sold in countries other than Poland until someday in 2014.
Some of the Magazine items are available in the Shop.
There is one Magazine, which contains a code with a VIP package dress and shoes.
A lot of Magazine items from 2015-2017 are available through the level system.
Sometimes there are clothes for the male characters.
New Magazines can be seen on Egmont Publishing's website here.
Sometimes you can enter competitions to win Star VIP for a Month.
There is an identical dress from the Flower Gown dress in the Shop.
Gallery
Items added to the Shops
Listed down below are Magazine items which were added to the shop and which can now be bought with StarCoins or Diamonds.