This article is incomplete!

This article is a stub. You can help the wiki by expanding it.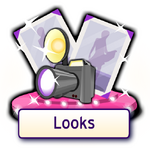 Looks are a creative feature on MovieStarPlanet. They allow the player to share and save an outfit they have created. It also allows the player to purchase looks made of other moviestars. The player can create looks of their own avatar, as well as of other moviestar's avatars. They player will earn fame when looks they've created receive loves and starcoins when the looks they've created are purchased by other players.
History
The looks feature was introduced in 2010 or 2011. Although there have been some very minor changes (like the updated "love" button), the website interface and design of the feature has mostly remained the same since it first came out. There was one major change made in 2011 or 2012 that introduced a new overall background to the feature.
In an update in November 2013, a new feature was added that gives the player the option to download a high resolution image with a transparent background of the look.
Buying from looks
It's possible to buy clothes from other's looks. However, you can only buy from looks of movie stars of the same gender. It's impossible to buy rares or clothes that are exclusive to Pixi Star or Zac Sky. -
Bugs & Glitches
Players were able to buy looks from avatars of the opposite gender by switching from a look that had an avatar (which couldn't be their own) of the same gender to a look that had an avatar of the opposite gender and quickly clicking "buy". (Patched)
There was period of time where the usernames of commenters were listed as just "Username" and the dates of their comments were listed as "Date". (Patched)
Trivia
Looks created on the app will have a different background than looks created on the website.
Community content is available under
CC-BY-SA
unless otherwise noted.