Special Greetings (commonly known as "greets") are an easy way to level up, earn more coins, or show appreciation for a friend.
About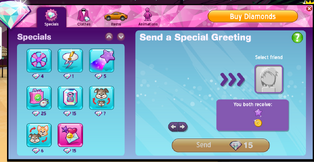 Specail Greetings are things that you can send to a friend to show appreciation, or just to be nice. If you send a greet, both you and the person receiving the greet will get 3,500 fame and 500 Starcoins. There are 4 Choices for greets. Unfortunately, the greet doesn't include the animation shown. When you send the greet, you and your friend will be doing the animation. Special Greetings cost 15 diamonds.They're available to both VIPs and non-VIPs, but you must have at least 15 diamonds to afford them.
How to Send a Greet
Go to "Shopping", and then go to the Diamond Shop. Then, click the last button under "Specials", which has a picture of an envelope, a smiley face, a heart, and a purple star, and is labeled with 15 Diamonds. After that, select the friend you want to send it to (the user has to be online). Use the purple arrows to select a different animation and item. To send the greeting, select "send".
Trivia
If you are on boost when you send or receive a greet, you will get twice the Fame.
When you send/receive a greet, something will pop onto your screen no matter what you are doing. Once you close it, you will get the Starcoins and Fame.
MSP used to have different items for greets, but it is unknown why the items were changed.
On German MSP and the servers released in 2013, there are only 3 choices for greetings, as the balloon one isn't there unknown reasons.
The fame from greets were previously 2,000 fame, then 3,000, then 3,500.
In October 2017, the items in greets were removed and the fame was changed.
There were different items for different choices.
In December 2012, the greet option with the star, was full with snow and the animations were changed and you would get a penguin as an item.
Glitches & Errors
Sometimes Fame + Starcoins will appear on the receiving user's account before the greet popping up on their screen. (unpatched)
Gallery
Community content is available under
CC-BY-SA
unless otherwise noted.