This article is incomplete!

This article is a stub. You can help the wiki by expanding it.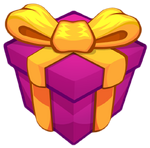 Gifting is a system within MovieStarPlanet, that allows players to give items, animations, backgrounds, or clothing to other users. Players receive the ability to give gifts on MovieStarPlanet at level 6 or by purchasing any VIP membership and on MovieStarPlanet 2 at level 8. The daily limit on MovieStarPlanet is 25 gifts and resets at 8 p.m. Eastern time.
Gifting Methods
Wishlist Gifting (MSP Only)
The wishlist is the place where users can put clothing or room items they cannot afford but would like other users to buy for them. The wishlist can hold a maximum of twelve items and is accessed by going to a user's full profile and clicking the gifts tab. You can remove or purchase items from your own wishlist at any time.
Normal Gifting
Clothing, animations, backgrounds, and items can be sent from your own personal wardrobe for free. This can be accessed by going to a user's mini profile and clicking the gift button. On mobile, the wardrobe is sorted by the categories found within the shops.
Gifting Choices
Non-VIPs cannot receive VIP items.
Diamond items, beauty supplies, currency, and fame cannot be gifted or wished for.
Rare items and designs can be gifted.
Pets can't be gifted on MSP but can be on MSP2.
Bugs
If you have already given 25 gifts, the game still says "Bought", but you haven't. (Patched)
VIPs could gift VIP items to non-VIPs. (Patched)
Trivia
The gift limit was 10 gifts per day until an update in November 2017.
Players below level 6 (MSP) or level 8 (MSP2) can still receive gifts.
You could not originally gift from mobile.
See Also