This article is incomplete!

This article is a stub. You can help the wiki by expanding it.
Friends are a way to keep track of who you know and who you've talked to.
What are Friends?
Friends are other moviestars that are met on the game in variety of ways and added by sending them a friend request. Friends can be interacted with in numerous ways, including putting them in movies and artbooks, sharing things with them, sending greets to them, and inviting them to chatrooms and player rooms. Shown in the "Friends" tab, which can be accessed by clicking the "Friends" button at the top of the screen, are the number of friends you have, the number of friends online, the number of VIP friends you have, and the maximum number of friends you can have. The "Friends" tab can also be used for browsing through your friends, sending/accepting friend requests, and searching for other players.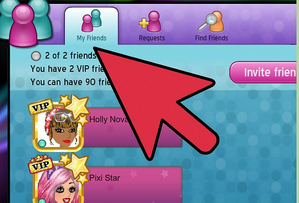 How do I add friends?
Computer
On the computer, friend requests are sent by finding and clicking on another user, which will bring up their mini-profile, and clicking the button with the turquoise person on it. There will be an X next to the friend symbol on their mini-profile until the friend request is answered.
App
On mobile, friend requests are sent similarly to how they're sent on the computer. Click the user you want to add, click the turquoise person with a "+" sign next to it, then answer yes to the popup that says, "Are you sure you want to send a friend request to (user's name)?"
Types of Friends
Regular Friends
It is impossible to know who another user's friends are, for it will not show on their profile.
Best Friends
You can have up to 3 best friends. They will have a star next to their picture on their profile.
In Relationship With
You can only be in a relationship with one person. They will have a heart next to their picture on your profile.
Trivia
There is a highscores section for everything under "Me and my friends".
The friend limit goes up every time you level, usually by 10.
Some users use the "in a relationship" spot for a "fourthie", which is simply a fourth best friend.
Community content is available under
CC-BY-SA
unless otherwise noted.