This article is incomplete!

This article is a stub. You can help the wiki by expanding it.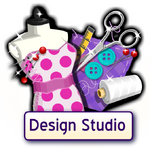 The Design Studio is a feature on MSP where users can design their own clothes based on the items provided by MSP. 
Designing Process
Users can pick a top, bottom, or dress (exclusive to female users). Each item costs 50 Starcoins without adding any patterns or stickers. Moviestars can change the color of their item by clicking on the colored boxes near the bottom right corner of the design studio. Users may choose to add one pattern or sticker for varied prices, but they are given the option to skip them. The stickers are identical to the ones in Artbooks. After completing the design, the user can choose to pay the price of the design and own it. Users are also able to sell their design by clicking the "Sell" button and choosing the number of copies they want to sell in the Studio. VIP members are able to sell up to 50 and non-VIP users can sell up to 20. Users are allowed to sell only 3 items at a time and can choose to cancel the sale of a design. Each sale earns the user 50 fame. Users can also obtain achievements from making a certain quantity of designs. These achievements will give you varying levels of fame based on the level of achievement (Bronze, Silver, Gold, Diamond.)
Trivia
When users sell their design, other MovieStars get a discount.
The Design studio was introduced in March 2013.
Rares have been seen in the studio for an unknown reason but you cannot buy them.
Due to the new MSP updates, some clothes cannot be sold or bought again, for an unknown reason.
In the update in June 2015, Moviestars can now view another's designs in their profile.
It is impossible to sell or trade designer studio clothing.
In late 2017, new dresses, tops, and bottoms were added.
Moviestars can now sell their designs without paying a fee. Fees were previously:

5 copies: 250 Starcoins.
20 copies: 500 starcoins 
50 copies: 2000 starcoins 
Community content is available under
CC-BY-SA
unless otherwise noted.