Becca Beats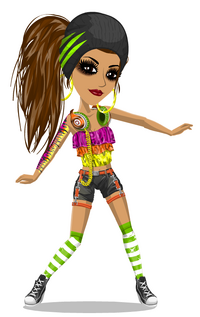 Becca Beats is a main character on MovieStarPlanet. She is featured in the animations list for female MovieStars.
Outfit
| Name | Type | Category |
| --- | --- | --- |
| Leopard Ruffles | Tops | Shirts |
| Action Packed | Bottoms | Shorts |
| Sporty Wedges | Footwear | Sneakers |
| Turnaround Tail | Hair | Styled |
| A unique version of Boomin' Beanie | Accessories | Hats |
| Loop Earrings | Accessories | Jewellery & Glasses |
| Tigerspray Tattoo | Accessories | Miscellaneous |
| Swag Beats | Accessories | Miscellaneous |
Appearances
She is used in the animations list and mobile shop for females.
She is in a news graphic related to animations.
She is featured on the cover of the Markwins MovieStarPlanet makeup kit along with her boonie.
She is featured on the homepage of the MovieStarPlanet merch shop.
She was featured in the level up message when the level system was updated.
She is featured in the in-game background "BFF Zone".
Her boonie, "Phunkee" is featured as one of the in-game purchasable boonies, in the in-game pop-up messages, and in the MSP game BooniePlanet.
She is on the cover of one and in various magazines.
She is in the Fame Rush mobile game.
Gallery
Community content is available under
CC-BY-SA
unless otherwise noted.